Who hasn't discussed the Ailing Economic Environment that has gripped the nation? It seems that everyone except the folks at the higher levels of Government are cutting costs everywhere they can. My question to you is, years down the road, will you have chosen wisely in the areas of cost cutting where your wedding is concerned?
Once the wedding is over, there is very little that remains. The dress may be stored away to be viewed on rare occasions and a few trinkets such as a leftover invitation as well, but what about all that money that was spent on the Rental of the Church, the Reception, the Tuxedos, etc. What about all the money that was spent on the food, the Band or Mariachis, the cakes, the liquor? All of it will be gone in less than a day. What you will have left will be the MEMORIES of those things. Do you want to have some mediocre or even bad images to guard those Memories? Wouldn't it be much wiser to perhaps spend less on some of the other more fleeting things and invest a little more on imagery that you will Cherish for Decades? I'm NOT saying that you should get a gorgeous and expensive album. Not at all. In fact I routinely tell budget conscious clients that if necessary, invest in only the capture of the Photographic or Video Imagery First. Never mind the Fancier Album or Extraordinarily Romantic Video Editing. You'll save a bundle and still have the Required Images that you can use now and create from later.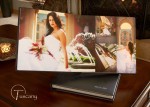 If you want Gorgeous images, just Make Darn Sure that you retain someone who has shown that he or she can do it, has been doing it and will in all likelihood do it again for you! As long as the High Quality Image Files are Stored and not lost (to a Hard Drive Failure for example), you will be able to create the Memory album or the stunning Movie DVD that you really want at some time in the future. (I'll be writing about the importance of image Backups soon). Perhaps it will be once you have recovered from the immediate Financial demands (perhaps on your First Anniversary), or perhaps it will be when you feel better about your job security; you can then without pressure, consider the incredible array of Wedding Albums that are available. In fact, in all likelihood there will be some new album feature or style that just came out and that you absolutely love! But, if the images that you have are not incredible, (and are even bad), the most stunning album in the world will not make up for it. Twenty years from now, will you remember that there was a recession in 2008-2009? Do you remember the last recession? One thing is for sure. The images that you retain someone to capture now will either bring you tears of joy, or tears of sadness for Decades.