Brides, let's look a few months in to the future.  You've enjoyed your wedding day, and you and your guests are in great anticipation to seeing all the Wonderful Wedding Photography that was captured.
Problem is that everyone is calling, texting, emailing and otherwise messaging you asking the same question.  When can I see them.  It'll get frustrating after a while.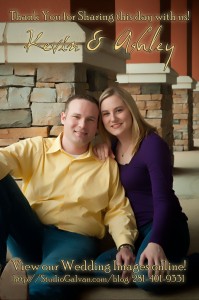 Here's the solution!  Have personalized cards created that already have the image viewing information printed on them and give them away at the reception!  The cards should have the website where they can be viewed as well as a phone number to call if they have any problems viewing them (Otherwise any web challenged viewers will be calling YOU).
This sly solution will double as a wonderful memento of your wedding day.  Your Family & Friends would want this creative card even if it didn't have the information!
Studio Galvan understands how valuable this little used solution is to their wedding photography clients and gives it away as a part of their service!
Check out this Photo-Video some recent Wedding Thank You Cards we have created.