University of Houston Wedding
Christine Bena & Clay Sanford…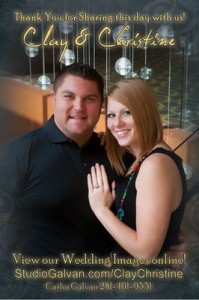 …had an all the way University of Houston Wedding.  First their Ceremony was at the glass encased A.D. Bruce Religion Center also known as the U of H Chapel.  Then their reception was just a short walk away at the U of H Hilton.  The food was awesome but I don't know how much of it Christine & Clay were able to enjoy.  They spent so much time mingling with the crowd of family & friends then participating in all the traditional (and not so traditional) wedding events.
I love photographing weddings at the University of Houston.  The Chapel is like no other. and it always provides gorgeous wedding photography opportunities.  While the couple were too busy with their reception to really take advantage the University of Houston landscaping, the wedding reception photography was filled with more than the usual amount of fun moments!
Check out this Photo-Video of some of my favorite moments.

Wedding Photography Viewing & Ordering Site
Want to see the rest of the images? Please visit Christine & Clay's Wedding Photo Viewing & Ordering site. Once all the images have been uploaded & released you'll receive an email message letting you know that you can enjoy them.